A composite number

is called
Giuga number
if
divides

for all prime divisors
of

.
It can be proved that

is a Giuga number if and only if the difference

where
ranges among the divisors of

, represents a natural number.
For example,

is a Giuga number because

It can be proved easily that a Giuga number must be squarefree and equal to the product of at least 3 primes.
All the known Giuga numbers are even, but the possibility of an odd Giuga number has not been ruled out.
The first Giuga numbers are 30, 858, 1722, 66198, 2214408306, 24423128562, 432749205173838.
Pictorial representation of remainders (mod 2, 3, ...,11) frequency. For a table of values and more details
click here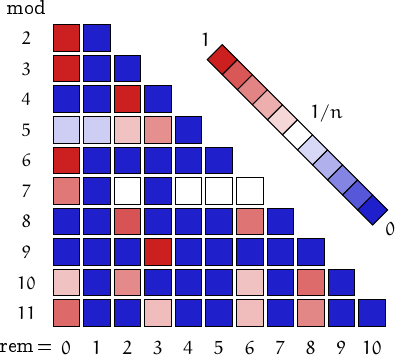 A graph displaying how many Giuga numbers are multiples of the primes
p
from 2 to 71. In black the ideal line 1/
p
.