A number

is called
self-describing
if it has an even number of digits, so that the digits can be divided into adjacent pairs

and pair

truthfully declares that the number

contains

copies of digit

.
All digits must be accounted for, but pairs can be repeated.
For example, the number

is divided into the pairs

,

,
,

, this say: the number contains three

, one

, one

and three

. Another example, the number

, divided into

,

, tells us (twice) that it contains four

.
The self-describing numbers are not very common. Up to

(actually up to

, since they must have an even number of digits) there are 783343 such numbers.
The smallest pandigital one is 10141516181923273271.
The self-describing numbers are finite, since we can have at most 9 copies of each digit. According to Robert G. Wilson the last term could be

The first self-describing numbers are 22, 4444, 224444, 442244, 444422, 666666, 10123133, 10123331, 10143133, 10143331, 10153133 more terms
Pictorial representation of remainders (mod 2, 3, ...,11) frequency. For a table of values and more details
click here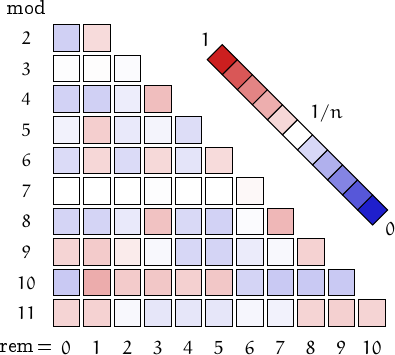 A graph displaying how many self-describing numbers are multiples of the primes
p
from 2 to 71. In black the ideal line 1/
p
.