Taxicab numbers are numbers that can be expressed in more than one way as a sum of two positive cubes.
For example, the smallest taxicab number is 1729, since
Here the name taxicab is used in a somehow relaxed way. Other authors define the

th taxicab (or taxi-cab or Hardy-Ramanujan) number

as the smallest number that can be written in

different way as the sum two positive integral cubes.
The name(s) of these numbers derive from a famous anecdote involving a taxicab and the famous mathematicians Hardy and Ramanujan (see the web pages linked below).
There are 870850 taxicab numbers up to

. The smallest one with 3 and 4 representations are 87539319 and 6963472309248.
The first taxicab numbers are 1729, 4104, 13832, 20683, 32832, 39312, 40033, 46683, 64232, 65728, 110656, 110808, 134379, 149389, 165464, 171288, 195841, 216027, 216125, 262656 more terms
Pictorial representation of remainders (mod 2, 3, ...,11) frequency. For a table of values and more details
click here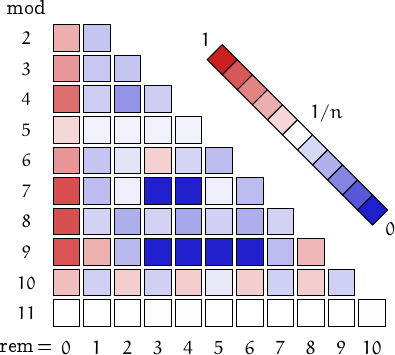 A graph displaying how many taxicab numbers are multiples of the primes
p
from 2 to 71. In black the ideal line 1/
p
.